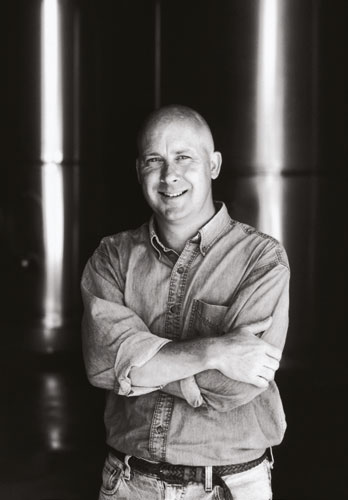 The Gramp History
Tim Gramp is a fifth generation direct descendant of the wine family that made the Barossa-Valley-based company, Orlando, famous. It is a proud history that dates back to 1837 when Johann Gramp, keen to start a new way of life, sailed from Germany to Australia at the tender age of 17. Johann eventually settled in the Barossa Valley, at a beautiful riverside location known as Jacob's Creek, and set about planting the first vineyard in the Barossa Valley.
Johann's son Gustav went on to establish G Gramp & Sons at Rowland Flat in the Barossa Valley. Gustav was selected by the Australian wine industry to trial fermentations from imported strains of yeast and he chose his source from the famous Chateau Lafite in Bordeaux, France.
Gustav's son Hugo Gramp, Tim's grandfather, became the next managing director. It was under Hugo's leadership that G Gramp & Sons revolutionised the Australian wine industry with innovations such as introducing the first cold fermentation and the first sparkling fermentation technologies to Australia, and were influential in changing the culture from drinking fortified wine to drinking table wine with food.
Equipped with these advancements, G Gramp & Sons produced exceptional wines and won a record number of trophies and gold, silver and bronze medals on the Australian and international wine judging circuits. Tim's father, 'Snowy' Gramp, was a Director and Viticultural Manager of the company. This heritage of innovation has given Tim a deep understanding and passionate commitment to quality wine production and vineyard management.
The Tim Gramp Story
Wine is in Tim's veins and he felt compelled to keep 'flying the flag' and continue the Gramp dynasty. These were big shoes to fill but the incentive to produce wine of the highest quality was a challenge too good to pass up! He studied wine production and marketing at South Australia's world-renowned Roseworthy College. After graduating, Tim gained experience with small and large wine companies in Australia and has been involved with the Australian wine industry for over forty years.
Tim has travelled extensively overseas to meet with other winemakers and share different winemaking philosophies. This collaboration with global winemakers has taken Tim to Italy, Spain, Portugal, Croatia, Crete and France.
Tim produced his first wine in 1991 — a full-bodied and robust Shiraz — winning a trophy and six gold medals, including a gold medal at the Intervin International wine show in New York City. The Tim Gramp Shiraz is a three times winner for Champion Dry Red Wine of Australia at the Small Winemakers National Wine Show.
Following this success, the next step was to find a suitable base to call headquarters and Tim knew it had to be in the Clare Valley. Its rich terra rossa and alluvial soils, Mediterranean-style climate paired with cool nights, and select vineyard aspect make the Clare Valley highly prized as one of the most important viticultural regions in Australia.
In 1996, while searching for a good Riesling grape grower, he found the perfect site: a winery for sale in the beautiful hamlet of Leasingham. Tim completely re-equipped the winery and renovated the adjoining 1860s cottage to create Tim Gramp Wines cellar door.
The Tim Gramp Philosophy
Tim's heritage and focused commitment have nurtured and reinforced his winemaking philosophy: to produce exceptional wine from small parcels of fruit selected from single-site vineyards in the famous wine sub-region of Watervale, Clare Valley. Time-honoured basket pressing epitomises the definitive regional and varietal characteristics of Tim Gramp Wines.